In these increasingly complex and uncertain economic times, many of us have tested our own financial literacy and gained a humbling respect for luck. We have tested what, in 2008, the President's Advisory Council called "the ability to … manage financial resources effectively for a lifetime of financial well-being." While there will always be forces beyond their control as well, for young people, financial literacy increases their chances of being self-reliant and fully independent, even under the duress of straightened circumstances and a difficult economy. They also need financial literacy in recognition of their interdependence. They need financial literacy so that, when they go to the polls, they go with an understanding that their own financial well-being is deeply connected to the well-being of the nation as a whole.
Like other forms of literacy, financial literacy can be developed in young people with practical, hands-on learning that draws on their current life experiences. Just as importantly, financial literacy must give young people the tools to imagine their future, to dream about it and to plan for it.
To strengthen and expand personal finance instruction in New York City classrooms, Teachers College, Columbia University through the generosity of Trustee Joyce Cowin, has developed a financial literacy program that will strengthen personal finance learning where it is most needed: in urban high school classrooms that serve students from immigrant and working-class families — families which, under economic duress themselves, are least able to model financial literacy.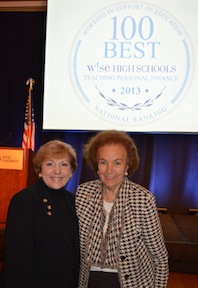 Developed especially for social studies teachers, and in partnership with Working in Support of Education (W!SE), our initiative combines intensive professional development with the opportunity to create lessons that can be easily integrated into history and economics classes. Much of any existing curriculum is set by state and local requirements. Teachers will learn how to work inside these existing course contexts by using self-contained lessons — lessons that can be dropped into these courses at multiple points.
Scholars have found that improving the financial education of teachers remains the best way to reach students, particularly those from at-risk backgrounds. Simply put, teachers need to understand the concepts of personal finance to effectively convey financial concepts and practical applications to their students.
The project's curriculum and professional development program will focus on helping teachers learn the principles of financial literacy (money, budgeting, cost of money, banking, credit, insurance, investing, financial planning and regulation) and how to teach these principles dynamically through a case study method. Once we have successfully piloted the program in New York City, we will work with W!se and other organizations and develop national financial literacy programs for students across the country. #
Dr. Anand R. Marri is an associate professor of social studies and education at Teachers College, Columbia University, principal investigator for the Understanding Fiscal Responsibility Project, senior research affiliate at the Institute on Education and the Economy and interim program coordinator for the program in social studies. He earned his Ph.D. from the University of Wisconsin-Madison in curriculum and instruction.
Pictured above
Top: Teachers College Trustee Joyce Cowin has developed a financial literacy program in urban high school classrooms.
Below:
(L-R) Founder, President & CEO of W!SE Phyllis Frankfort Perillo, with longtime financial literacy advocate and philanthropist Dr. Charlotte Frank at an awards ceremony celebrating the 100 Best High Schools for Teaching Financial Literacy around the U.S., held at the New York Stock Exchange.